A head teacher in a town dubbed the worst place to grow up poor has said schools have a part to play in raising opportunities for children.
A report by the Social Mobility Commission said the educational and career prospects of children in Newark are too often limited from the outset.
Anna Martin, principal of Magnus Church of England Academy, said children need more cultural and social pursuits.
She said the underprivileged should get the same opportunities as the wealthy.
The commission's research found that only 43% of children in Newark are ready for school when they start Reception, compared with 52% nationally.
By adulthood only 21% are in professional or managerial roles, compared with 51% in Oxford.
Jenny Hodgkinson, a primary head teacher, said parents are working hard and are often caught between low pay and rising living costs to give more time and energy to their children's schooling.
Young people also told the BBC there were a lack of jobs and opportunities in the town, with one man saying he was never "pushed" or "encouraged" to better himself.
Jill Musson, manager of the Newark and Sherwood Play Support Group, a charity which promotes play to enrich the lives of children, agreed there was a "lack of aspiration, belief and imagination" among the young.
However, she said funding was reduced each year and it was a "constant battle" to stay open.
The cash issue is echoed by Newark and Sherwood District Council, deemed the worst performing local authority in terms of social mobility.
Following the report's findings, it demanded an "urgent injection of sustained investment" from the government to overcome the challenge of social immobility.
Ms Martin, who has been at the Magnus Academy since September 2016, acknowledges the school has a tight budget but is determined not to let it hold her pupils back.
She is "passionate" that the disadvantaged should have the same "cultural and social" experiences and opportunities as those in grammar and private schools.
"We are sending a strong message that 'this is for them too'," she said.
The school day is changing from January to ensure all pupils take part in activities that develop new skills.
The pursuits will include art, film and book clubs, choirs, bands, board games, cards, sound engineering, robotics, drama and gardening.
There will also be a range of sports and exercise groups as well as debating classes and a "family dining experience" where year 7 pupils will eat together with a member of the community placed at the head of the table.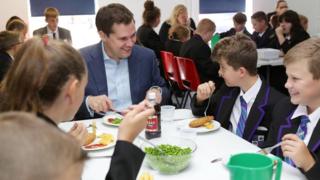 "If we can also give them the confidence and skills to take hold of these opportunities we will begin to see more young people from this community be successful at university and in top jobs," said Ms Martin.
The principal hopes these activities will develop "well-rounded individuals" and give hope to a community that is struggling with social mobility.
---
The historic town of Newark
The infamous King John died in Newark Castle in 1216
Newark was the base for the royalist cause during the English Civil War
It was besieged during the conflict until it was ordered to surrender by King Charles
The town is located between the cities of Nottingham and Lincoln
It is also close to the busy A1 and the River Trent, and is only about an hour from London by train
Newark has always been considered a prosperous area, largely due to its tourism and manufacturing industries
In the 2011 census, 77% of the town's people were employed and earnings were 7% higher than anywhere else in the East Midlands
Sources: Visit Newark and Invest in Newark & Sherwood
More from this publisher HERE